Chambers Europe 2019 recommends 11 legal practice groups and 13 lawyers from Pepeliaev Group
11.03.2019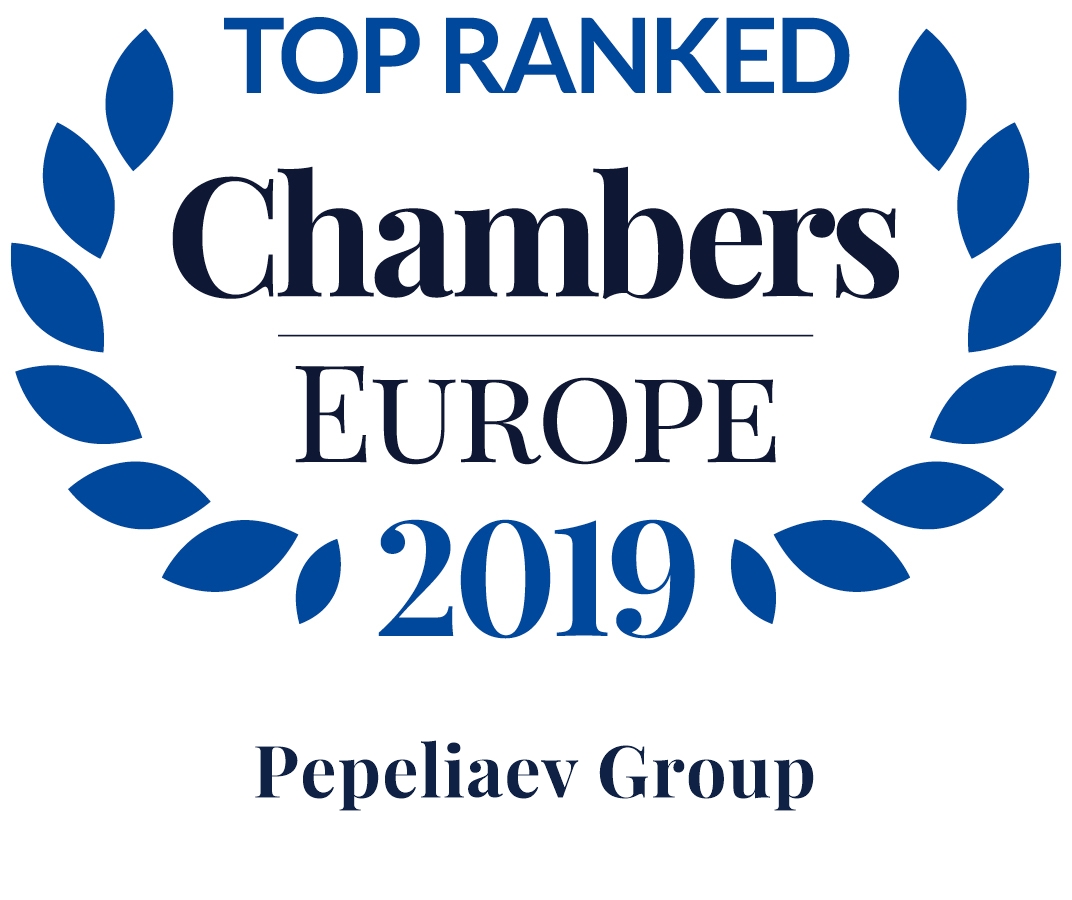 Pepeliaev Group has achieved exceptional results in the Chambers Europe 2019 ratings. 
Our Tax and Employment Law Practices continue to be named in Band 1. In the individual ratings, the reviewers have given prominent placings to Managing Partner Sergey Pepeliaev (Eminent Practitioner), Partner Julia Borozdna (Band 1) and Head of the IP Practice Valentina Orlova (Band 1). 
Our Corporate Law, Healthcare, Dispute Resolution and IP practices are named in Band 2. Senior Partners from the Tax Practice, Rustem Ahmetshin and Andrey Nikonov, feature in Band 2 of the individual ratings. 
Band 3 of the Chambers Europe 2019 ratings includes our Antitrust Practice, Real Estate and Construction Practice, and Bankruptcy and Anti-Сrisis Protection of Business Practice. Partner Yulia Litovtseva, Head of the Bankruptcy Practice, has improved her individual result, moving up from Band 4 to Band 3. Elena Sokolovskaya, Head of Antitrust Practice, is also named in Band 3. Partners Alexey Konevsky and Natalia Stenina of the Real Estate and Construction Practice also feature in, respectively, Band 4 and the Up and Coming category of the Chambers Europe 2019 ratings.
In addition, Yuri Yahin, Head of an IP Practice Group, enters the ratings for the first time in the Associates to Watch category. Joining him in this category is Anna Berlina, Senior Associate in the Employment Law Practice. 
Pepeliaev Group's St Petersburg Office has also received recognition in the Chambers Europe 2019 ratings. For Dispute Resolution and Commercial Law, the St Petersburg Office is named in Band 2 and Band 4 respectively. The individual rantings in Commercial Law include Senior Partner Sergey Spasennov (Band 3) and Partner Sergey Sosnovsky (Band 4). The latter also makes an appearance in the Tax Law ratings.