Pepeliaev Group's practice areas have achieved outstanding results in The Legal 500 – 2019
15.04.2019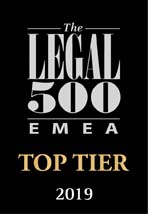 Several of Pepeliaev Group's practice areas at once have demonstrated progress in the international legal rating The Legal 500. The Bankruptcy and Anti-Crisis Protection of Business Practice of Pepeliaev Group has been hailed by the rating for the first time, making it straight into Tier 3. The lawyers from this practice area support creditors through the process of recovering debts from subsidiaries and contractors, as well as representing clients in bankruptcy disputes and in managing insolvency risks. Moreover, the practice area headed by Yulia Litovtseva, Partner, has substantial expertise in the area of secondary liability.
The Dispute Resolution Practice has made the leap to Tier 3. Experts note that Yuri Vorobyev, Partner, has impressive experience in representing clients from various sectors of the economy in commercial and financial court disputes regarding, among other things, leasing and loan agreements as well as transactions and investments. Roman Bevzenko, Partner, specialises in real estate and construction disputes.
The practice providing services for private clients, having featured in the rating for the first time last year, has leaped to Tier 2. The team from this practice group helps clients to resolve issues relating to family and inheritance law, structuring of ownership, and migration issues. Julia Borozdna, Partner, has been singled out in the area of migration and inheritance law and is joined by Olga Puchkova, Lead Expert, in the area of family law.
The firm's Corporate Law / M&A Practice has also made the leap to Tier 5.
The Tax Practice has retained its leading position in Tier 1. Experts emphasise that Pepeliaev Group's client-oriented team has a solid reputation with regard to issues of internal tax regulation Sergey Pepeliaev, Managing Partner, and Rustem Ahmetshin, Senior Partner, are marked out as leading individuals. The rating has also highlighted Senior Partners Andrey Nikonov and Ivan Khamenushko, Partners Valentina Akimova and Andrey Tereschenko as well as Andrey Kirillov, Senior Associate .
Pepeliaev Group's IP Practice has retained its position in Tier 2. The experts noted that Valentina Orlova, Head of Practice, and Yuri Yahin, Head of Practice Group, are "unbelievably competent".
The Employment Law Practice has also retained its position in Tier 2. "The extremely professional and competent practice team has the legal expertise of the topmost level and exercises a practice-oriented approach to resolving clients' issues", the experts say. The rating has singled out Julia Borozdna, Partner, and Dmitry Zykov, Head of the Data Protection Group, as well as Anna Berlina, Senior Associate, and Vitalia Kuznetsova, Associate.
The Telecommunications Group (Tier 3) is headed by Natalia Kovalenko, Partner, who advises major telecommunications companies. Rustem Ahmetshin, Senior Partner, has profound expertise in resolving contentious matters. This category also includes Alexander Kosov, Partner, who represents Samsung Electronics in customs law cases.
The Banking and Finance Practice (Tier 4) is headed by Igor Marmalidi, who has substantial experience in banking law and the legal regulation of securities as well as in structuring international financial and investment transactions and in litigation. Yulia Litovtseva, Partner, represents banks in bankruptcy disputes.
The energy and natural resources industry group retains its positions in Tier 4. Its key specialists are Sergey Pepeliaev, Managing Partner, and Natalia Stenina, Partner.
The Corporate Practice in Pepeliaev Group's St Petersburg Office is placed in Tier 2. The team's expertise includes joint ventures, M&A transactions, direct foreign investments, corporate governance and commercial disputes. The key contacts are: Sergey Spasennov, Head of St Petersburg Office and Senior Partner, and Sergey Sosnovsky, Head of the Tax Practice in the St Petersburg Office.
The Antitrust Practice is placed in Tier 3. The key specialist in this area is Elena Sokolovskaya, who heads the Practice.
The team from Pepeliaev Group's Real Estate and Construction Practice (Tier 3) advises clients on complex issues concerning land and real estate transactions and construction projects. The practice is headed by
Natalia Stenina
, Partner, and
Alexey Konevsky
, Partner.