Bankruptcy and Anti-Сrisis Protection of Business
Bankruptcy does not mean saying goodbye to the affected business, but is rather a tool that allows it a fresh start. We see our mission as being not only to provide effective legal support during rehabilitation and liquidation procedures, but also in the course of a company's daily operations in order to exclude regulatory risks.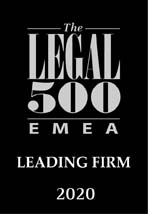 Pepeliaev Group safeguards the interests of everyone involved in insolvency proceedings. In addition to projects in Russia, we also provide legal support in cross-border proceedings, when a debtor and its assets (or creditors) are located in different jurisdictions. Having professional lawyers involved in the process is crucial, for there is almost no regulation of bankruptcy proceedings involving a foreign element at the national level.

One of the key advantages of Pepeliaev Group is the ability to engage other practice groups of the firm to work on projects to solve complex business tasks and take into account the operational specifics of the client and its debtor counterparties.

Key areas in which our Bankruptcy and Anti-Crisis Protection of Business Practice operates
The management of insolvency risks is an integral part of securing a company's own economic security.
Our services:
Anti-bankruptcy compliance
Implementing anti-bankruptcy compliance as an integrated system for preventing risks from the perspective of bankruptcy legislation
Managing risks when a business's structure is shaped or reshaped
Advising on how risks can be mitigated when corporate decisions are made or transactions are consummated
Mitigating the risks when contractual provisions are determined and performed from the perspective of bankruptcy legislation
Preventing the risks of personal liability of controlling persons on bankruptcy-related grounds (secondary liability, recovery of losses, criminal and administrative liability)
Mitigating bankruptcy risks with respect to tax obligations
Checking contracting parties
Providing support under transactions involving the acquisition of assets, including those sold during auctions within the framework of bankruptcy
Restructuring debts and working with distressed debt
Providing legal support when there is a risk of a business being taken over using the bankruptcy mechanism
When we represent clients, our support is either comprehensive or involves resolving specific business tasks assessing the legal grounds for and submitting a bankruptcy petition relating to a counterparty;
legal support when a court-appointed administrator is appointed and providing support to the administrator;
providing support in the context of having claims included in a debtor's register of creditors' claims;
preventing falsified claims of creditors from being included in the register;
defending and challenging the debtor's transactions;
recovering illegally divested assets;
recovering accounts receivable.
Often projects are not restricted to one specific country, but rather involve several jurisdictions
Thanks to Pepeliaev Group's professional connections with leading foreign law firms and its own private international law specialists, we successfully provide legal services associated with cross-border bankruptcy:
we provide support to foreign creditors when their Russian debtors are insolvent (and also to Russian creditors when their foreign debtors are insolvent);
we represent clients when the debtor's property is located abroad;
we provide support during recognition of foreign bankruptcies and enforcement of international court decisions;
we advise on conflict-of-law rules and the applicable legislation.
Where regulations on insolvency apply, our Bankruptcy practice provides support in the field of administrative law
initiating the process for court-appointed administrators to face administrative liability
initiating the process for a director of the debtor to face liability in the case of a fictitious or deliberate bankruptcy or when a petition initiating the relevant procedure was not filed;
defending companies and their officers before administrative authorities and in courts of all levels;
drafting expert opinions in the area of administrative law defence of business.
We provide the following services jointly with lawyers of our criminal law practice:
initiating criminal proceedings in relation to existing elements of a crime in the area of bankruptcy;
providing representation before law enforcement authorities and courts of all levels;
drafting expert opinions on defending the business in the area of criminal law defence of business.