Intellectual property and trademarks
Our law firm has accumulated significant experience in supplying legal services relating to intellectual property (IP) and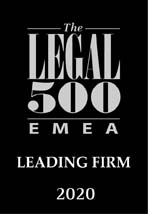 trademark issues in Russia. This includes implementing more than 240 projects of our clients from various industries (medicine and healthcare, FMCG, construction and real estate, energy, information technologies and others).
Pepeliaev Group employs a close-knit team of specialists, including patent attorneys, who supply legal services associated with purchasing, disposing of and protecting intellectual property rights.
The lawyers from our specialised practice group are regularly invited to conferences, including those held abroad, while they are also published in the business media, engaged in academic work, and honoured in international ratings (Chambers Global, Chambers Europe, Legal 500, WTR 1000 and others). They are involved in legal and business associations (CCI, AEB, INTA), as well as participating in refining legislation (the Federation Council, the Council of the Eurasian Economic Commission, Rospatent, the Ministry of Economic Development, the Ministry of Sport and others), and in the practice of law enforcement (Rospatent, the Advisory Committee of newly established Russian Court of Intellectual Property - the "IP Court").
In addition to the above, we have vast working experience, an in-depth understanding of IP-specific issues, and work in conjunction with other practice groups in the firm and with international partners who are members of the Terralex global association of law firms. All this allows us to tailor a specific approach to every client and to solve even the most complicated issues.
Professional Services
Mediation and settling disputes in courts on the following matters:
Protecting rights to the results of intellectual activity (copyright-protected items, including, among other things, computer programs and databases, complex items, inventions, utility models, know-how, and industrial designs) and means of identification (trademarks, service marks, appellations of origin,trade names, and commercial names)
Fighting counterfeit products, including through administrative and criminal law proceedings
Litigating before Rospatent, including its Chamber for Patent Disputes, and at the International Bureau of World Intellectual Property Organisation (WIPO)
Providing support during litigation in the IP Court seeking to challenge Rospatent's decisions, including patent disputes
Providing support during litigation in the IP Court to have the legal protection of trademarks terminated early
Protecting rights within the framework of anti-piracy legislation, domain disputes, disputes for motion picture companies, publishing houses and other disputes in copyright and related rights
Representing clients in cases relating to concluding, performing and terminating contracts to use an exclusive right to intellectual property, including those involving Rospatent
Providing legal support in disputes over unfair competition and abuse of a right, including disputes before the Russian Federal Antimonopoly Service and its local divisions, as well as before the IP Court, Rospatent,
and others.
Registering rights to the results of intellectual activity and means of identification with Rospatent and/or WIPO, and the Customs Intellectual Property Registry:
Drafting and filing applications for the registration of results of intellectual activity and means of identification (from the form of a bottle to the technology for metal tile production, from the logo of a sports team to a trademark in the form of a colour scheme, from the form of potato chips to the name of a medicine, from a birch-bark insole to nuclear physics), providing legal support in registration and in judicial proceedings, obtaining patents and certificates.
Contractual work: registering a disposal of an exclusive right, pledge and grant of a right of use under licence agreements and commercial concession agreements ('franchising'),
Revoking trademarks and patents.
Extending the term of registration of trademarks and patents, paying annual fees.
Adding IP items to the customs register for the purposes of controlling import
Registering trademarks internationally, and obtaining patents abroad (vast experience, dozens of jurisdictions).
Providing legal advice:
Due diligence of IP items
Assessing any type of IP item in terms of protectability
Providing recommendations with regard to obtaining legal protection for and rights to any IP items – items of copyright and related rights, patent law items, selection achievements, topography of integrated circuits, know-how, means of identification
Resolving tax issues
Mergers and acquisitions: granting the right to use and / or dispose of exclusive rights, and IP due diligence
Contractual work: drafting and analysing contracts, licence agreements, commercial concession agreements (franchising), agreements to dispose of and pledge exclusive rights to IP items, agreements for services and agency agreements, complex contracts (including agreements to transfer rights to a patent application, commissioning agreements, agreements for design documents and for films made for cinema or TV, agreements involving investment institutions, and etc.).
Making any possible amendments to agreements relating to IP items, registering amendments, terminating agreements, including in the International Bureau of WIPO.
Drafting separate internal regulations that regulate relationships regarding the creation and use of IP items, including relationships between an employee and an employer in connection with IP items created during employment (a set of documents or separate documents).
Providing legal advice in relation to the import, export and distribution of products created using IP items
Know-how, trade secrets, confidentiality and protection of information
The advertising and labelling of goods
The rules of the Eurasian Economic Union on IP
Data exclusivity
Legal support in fighting piracy
Monitoring compliance with and the exercise of copyright, rights to trademarks and patent rights
Complete support for the client; from organising reliable protection during customs and anti-piracy raids to representing clients before courts and law enforcement bodies
Working together with organisations that protect rights to IP items, and other authorities and private companies regarding the most qualified protection of clients' rights to IP items from piracy actions
Partner relationships with, among others, expert organisations and companies that conduct investigations, monitoring, and business intelligence, with sociological institutions to conduct surveys.
Monitoring the current status of the clients' trademarks portfolios
'Anti-piracy' measures
Filing reports that crimes have been committed, then representing the right holder during the pre-investigation or investigation, and in court