Employment and migration law
The sustainable and successful development of a business is directly dependent on an effective personnel structure and is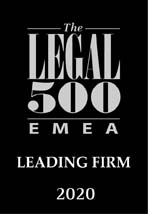 impossible without employment and organisational relations being legally formalised in a competent manner. 
This is the reason why HR-related issues require special consideration and are relevant at any stage of a company's development. Efficient legal mechanisms regulating relations between a company and its employees enable the company to mitigate existing legal risks and are key to the reliability and success of the business.

The employment and migration law practice of Pepeliaev Group is one of the strongest in Russia and is consistently ranked as one of three leading practices by the ratings of the leading international legal directories. 
We advise our clients on any issues of applying employment and migration law and offer the most effective and safest tailor-made solutions. 
Our services:
Advising on a wide range of general issues of employment and migration law
Advising on the optimisation and restructuring of personnel; developing and assisting in downsizing procedures and mass redundancy programmes
Providing legal support for employers in settling individual and collective employment disputes
Representing clients before governmental authorities
Advising on all issues entailed in regularising the position of foreign employees in Russia; determining the best way to execute documents for or concerning foreign employees
Advising on and drafting incentive programmes and private pension plans
Advising on issues relating to data protection
Developing and implementing regulations and procedures in respect of the establishment of a trade secret regime
Advising on how to apply the legislation relating to insider information